Indians across the world are getting ready to celebrate Raksha Bandhan or Rakhi tomorrow on Aug 18. Raksha Bandhan highlights the unsung bond between brother and sister. Festival is also celebrated by jains and other communities too. On Raksha Bandhan sisters tie rakhi on brother's wrist and this symbolizes her love for him and brother in turn takes vow to protect her. 
The festival is celebrated on the full moon day (Shravan Poornima) of the Shravan month of the Hindu lunisolar Nepali calendar. Raksha Bandhan is mainly celebrated in North and West India, Nepal and Mauritius. 
A day before Rakhi, women shop to bring rakhis and brothers too shop to get gifts to delight their sisters. They also give greeting cards and on the morning of Rakhi festival brother and sister wear new ddresses and in the presence of parents,family members sister tie rakh after lighting a diya. While tying the rakhi, sister applies tilak on the forehead of the brother. 
Mythology
Bhavishya Purana
According to Bhavishya Purana, during war between Gods and Demons, Indra was defeated by Bali. Vishnu gives Indra's wife Sachi a bracelet made of cotton thread named holy. Sachi tied it to Indira's wrist and he later conquered Bali and became king of Amaravathi. 
Bhagavata Purana and Vishnu Purana
According to Bhagavata Purana and Vishnu Purana, Bali requested Vishnu to live in his place after Vishnu defeated him. Vishnu at once agreed but Goddess Lakshmi didnot like his place or Vishnu's friendship with Bali and she longed to return back to Vaikuntha. So she tied rakhi to Bali and Bali in return fulfilled her wish. 
Santoshi Maa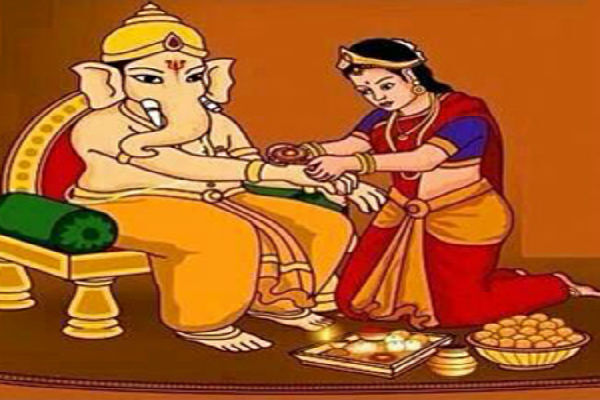 Shubh and Labh are sons of Lord Ganesh and on Raksha Bandhan Ganesh's sister visited and tied rakhi on his wrist. Subh and Labh became sad and when they asked their dad for sister, saint Narada appeared and informed Ganesh to have a daughter who brings him riches. So Ganesh created Santoshi Maa and her name comes from Ganesh's wives Ruddhi (Amazing) and Siddhi (Perfection). Thereafter, Shubh Labh (literally "Holy Profit") had a sister named Santoshi Maa (literally "Goddess of Satisfaction"), who loved and protected each other.
Maha Bharat
Krishna considered Draupadi as his friend and when Krishna's finger was cut while beheading Sishupal, Draupadi immediately tore her saree and tied it to his finger. Krishna promised to help her and during her vastrapaharan, he kept his promise. Draupati tied Rakhi to Krishna, Kunti tied Rakhi to her grand son Abhimanyu. 
Yama and Yamuna:
God of Death of Yama didnot visit his sister Yamuna for 12 years. Yamuna, felt sad and consulted Ganga. Ganga went to Yama and reminded Yama who visited her. Yamuna prepared delicitous food and Yama granted her wish that he will visit her again and again. Raksha Bandhan is also known as Bhai dhuj in North while in South many celebrate during Diwali. 
History:
Alexander and Purushottam
When Alexander invaded India in 326 BCE, his wife Roxana (Roshanak) sent sacred thread to Purushottam, king of Kaikeya asking him not to harm her husband. Purushottam was about to kill Alexander, but he saw the sacred thread and refrained from killing Alexander.
Rani Karnavati and Emperor Humayun
During 1535 CE Rani Karnavati, queen of Chittoor sent Rakhi to emperor Humayun to defend against the invasion by the Sultan of Gujarat, Bahadur Shah. Though Humayun went to save her with his troops, he arrived late and Bahadur Shah killed Karnavathi. 
Rabindranath Tagore:
Tagre promoted Raksha Bandhan in 1911 to promote harmony between Hindus and Muslims when muslims divided Bengal in 1905. In one of his poems he wrote
The love in my body and heart
For the earth's shadow and light
Has stayed over years.
With its cares and its hope it has thrown
A language of its own
Into blue skies.
It lives in my joys and glooms
In the spring night's buds and blooms
Like a Rakhi-band
On the Future's hand.
Maharaja Ranjit Singh:
Maharaja Ranjit Singh, Sikh King observed Raksha Bandhan and his wife Maharani Jindan reinforced the harmony between the Sikh Empire and Nepal through the Rakhi festival. The bond was honored when Maharani Jindan was given refuge by Jang Bahadur of Nepal in 1849[57] after the collapse of the Sikh Empire and annexation of its territories by the British.
Rakhi Colors: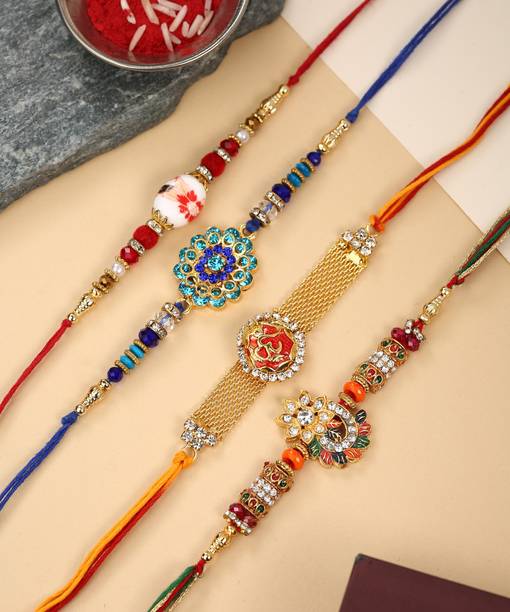 Each colour has a significance in this festival. Tagore used white, so white signifies friendship. Indrani used red for her husband Indra, so red signifies Love and loyalty. The last Orange and Yellow is most popular in India used by Laxmi and Yamuna for their brothers Bali and Yama so this colour is used for brothers.


Study says Britons have no time for a cup of tea

A study of 2,000 adults found a fast pace of life combined with rising work pressures and a phone that never stops means few people "switch off". Other factors include the stress of being a parent, longer commuting times and financial pressures amid rising costs of living. The research found those who do find the time, only do so for an average of 54 minutes a day.