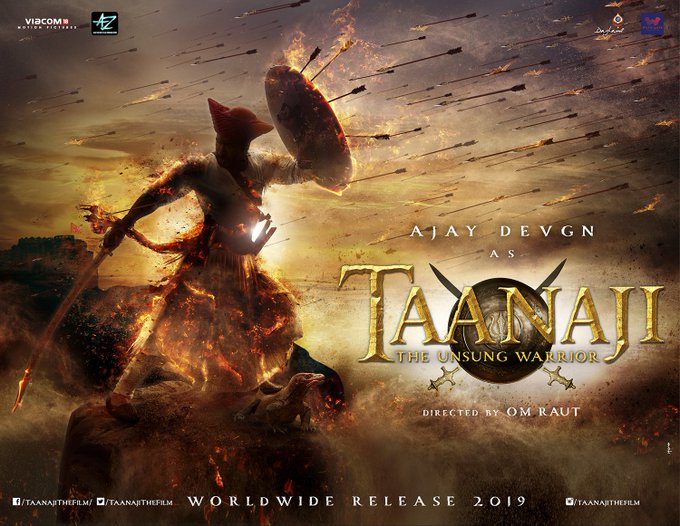 After a stint with Singham fame characters, Ajay Devgan now deviates towards Biopics and stressed upon working on a Historical era epic and Present era drama.
After Peshwa Bajirao, whose dual role as a brave and dedicated  Peshwa to the Maratha King and his secular love life was explored in Baji Rao Mastani in 2015 another legendary figure from the  Maratha history is getting a biopic Shape.     TAANAJI the brave close aide of Maratha King Shivaji and unsung hero who helped his people supported his King and died fighting Mughal Fort Keeper Udhayban Rathod in 17th Century.
 Ajay Devgan has decided to play the lead role as Tanaji directed by Om Raut to be released by Viacom Pictures in 2019 worldwide.
Ajay Devgan second Biopic is planned on Sher Singh Rana the accused in Murder of dacoit turned Politician Phoolan Devi in 2001.  The audience may get perplexed on filming a Controversial Criminal Character.  Many Knew Sher Singh Rana to be a murderer but none knew the other side of the coin.
The Climax of Sher Singh Rana real story will be revealed as soon as the biopic on him gets unveiled which is also available in his penned book titled Jail Diary-Tihar Se Kabul-Kandahar the thought very much inspired by Ajay Devgan who immediately planned to turn it into Reel and decided to play the lead role himself.   Shersingh Rana was convicted for the assassination of dacoit turned Parliamentarian Phoolan Devi in 2001 , but escaped Tihar Jail in 2004 and is claimed to have left to Afghanistan to bring back the remains of the 12th  Century Indian Ruler, Prithviraj Chauhan the brave Rajput King who outshined the Mughals but was killed by the treachery of monstrous Mughal ruler Mohammed Ghori and came back to his land through Afghanistan and Bangladesh.
Sher Singh Rana was once again caught in Kolkota in 2006 and convicted by Delhi Court until he received bail in 2014, but his other act of bringing the remains of the brave ruler Prithviraj Chauhan turned him into a Patriotic Hero and lauded by many who have forgiven his criminal shades and have embossed his Patriotic deeds in their hearts.
Ajay Devgan has still not decided on Director or Producer for Sher Singh Rana but will insist on working on it very soon.

The Milky White Beauty gets it BIG finally

Tamanna may not have the best of her times right now in Tamil as her career is totally on the downside. She's facing a huge downfall since the failure of 'AAA'. The movie even spoiled her reputation as it showed her more of a B-Grade actress.