The Congress- Janata Dal secular alliance is in chaos, as two MLAs were missing in the meeting convened by the Janata Dal secular party today. While the Karnataka State assembly elections have ended with none of the parties gaining absolute majority.
Currently both Congress and BJP are waiting for the call of governor to see whom he invites to form the government. On the other hand it has been said that the governor, a BJP member himself, has given the BJP party 7 days time frame to prove majority. BJP which has won 104 Seats still needs 4 more MLAs to prove majority, and they've hence got into the act of trading and buying MLAs from Congress and JDS.
All the parties have convened meetings, and HD Kumarasamy has said that they don't intend to offer support to BJP. However for the meeting, of the 37 MLAs, only 35 participated, as MLAs Raja venkadappa and Venkata Rao Nath Gowda were absent. JDS is in chaos thinking whether they've moved to the BJP camp.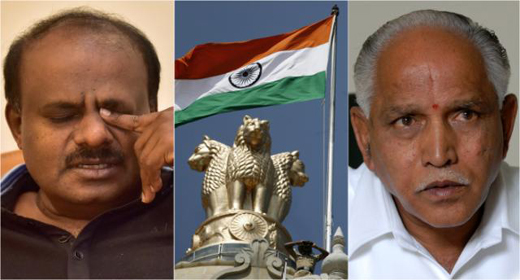 3 Maharashtrian Dishes You Must Prepare for this Ganesh Chaturthi

All the Pandals have been set up and Ganapathi has arrived and we all couldn't get more excited. Every year the festival is celebrated on a bigger scale and Maharashtra does it, even more, bigger and that is because of the dishes they prepare. Now, we bring you 3 dishes which you must know to prepare.