According to sources he may be the CEO of one of the most well known tech companies in the world, but Satya Nadella says that it is his journey with his special needs kids, especially his son Zain that has shaped his life and more importantly, his career. Meanwhile few months back Satya's wife Anu Nadella had shared her journey as a mother to three kids, saying that raising a child with special needs has taught her the meaning of true kindness.
According to her their first child Zain, now 21, was born after a complicated pregnancy during which Satya's career as an engineer was taking off and Anu was building hers as an architect. Moreover during her 36th week of pregnancy, Anu noticed her baby's movements had reduced and they rushed to the ER of a local hospital. Baby Zain, suffering from in-utero asphyxiation was born via emergency C-Section a few hours later, weighing 3 pounds.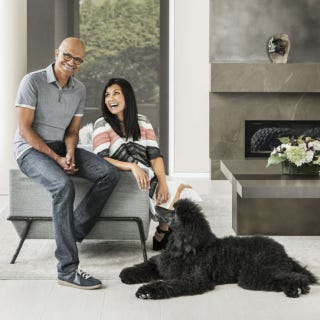 Furthermore Satya says that it is then that he noticed and learnt a valuable lesson from his wife of empathy. He realized that when he infuses empathy into his everyday actions, whether as a husband, father or a CEO, they are much more powerful. As per report today Zain is a charming 21 year old, who loves spending time with his family and has a passion for music. Their journey as a family has taught them the true power of kindness and of being kind to others as well as to themselves.


COAI feels new regulations are vague to violate privacy of users

Accordingly the Cellular Operators Association of India (COAI) has raised objections to the proposal by the union government to regulate internet platforms. Meanwhile as per report, the main opponents to the move are incumbent operators, Bharti Airtel and Vodafone, while interestingly the other major player and new entrant, Reliance Jio, have no problem with the government's move.