With the prices of Petrol and Diesel skyrocketing, a Telangana resident has chosen a strange way to troll and tease the Indian Prime Minister Narendra Modi. Chandu Goud, belongs to Telangana's Rajanna Chirchila district. 
He had met the district collector Krishna Baskar, and has handed over a cheque of 9 paise. He has requested the collector to transfer the fund to Prime Minister's relief fund. Chandu Goud has expressed his anger over the reduction of Petrol price by 9 Paise, in this manner.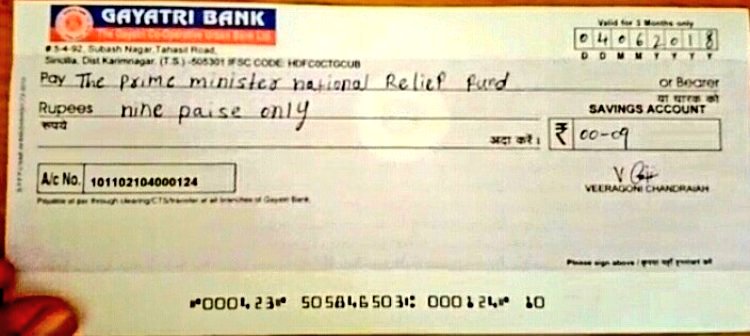 Due to the rise of Petrol and Diesel prices, farmers are facing a tough time, even unable to fill the fuels for their tractors and other farming equipments. Besides, the Telangana government has imposed a VAT of 32.5% on petrol and petroleum products. Hence the price petrol and other petroleum products are even higher in Telangana than neighboring states.


TN Govt plans to introduce Board Exams for Class 5 & 8

Accordingly Tamilnadu government is going to introduce board examinations for the students of class 5 and class 8, in addition to the already existing public exams for students in classes 10, 11 and 12. Meanwhile according to a circular issued to all the district education offices, the third term exams conducted in schools will henceforth be conducted as public exams. These exams will have common question papers for all the schools in Tamilnadu.