According to sources after ridiculing the drop in fuel prices that was in meager paisa, a Telangana man has sent a cheque for 9 paisa to PM Narendra Modi. As per report one Chandu Goud from the Telangana has handed over the 9 paisa cheque to Rajanna Sircilla district collector Krishna Bhaskar during Praja Vani programme and asked him to ensure that the cheque reaches Prime Minister's relief fund. Meanwhile this is after the Telangana state witnessed 9 paisa cut in the petrol.
Accordingly the fuel price said to have hit farmers most while they are bracing up for a new crop. Moreover since farmers use diesel and petrol for their tractors, motors in fields, they are said to have hurt more with the steep hike in fuel prices. Presently Telangana collects a staggering 35.2% VAT on petroleum products in the state which is also reason for its high price.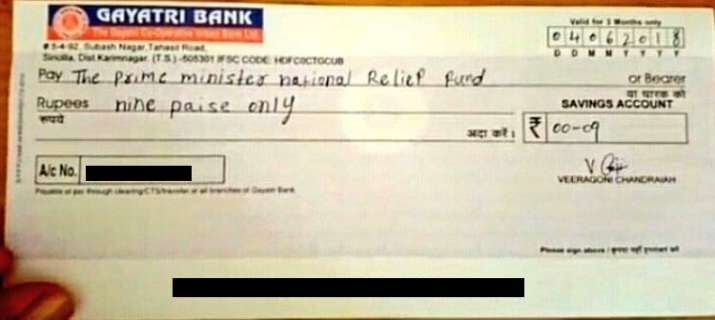 Furthermore across India, wide protests are done against the rise in fuel prices. Meanwhile the fuel price is directly linked to international market price of the crude oil, the heavy duties laid by both the state government and the central government makes the fuel prices touch sky in India. Moreover ahead of 2019 polls, the rise in fuel prices is likely to have telling affect on the poll prospects of BJP.


Government of Andhra Pradesh signs MoU with Internshala, launches 'Youth for Andhra Program'

Real Time Governance Society (RTGS) of Government of Andhra Pradesh has signed an MoU with Internshala to launch the 'Youth for Andhra Program' program. The program focuses on empowering the youth of Andhra Pradesh and shaping them into change makers at the grassroot level. 10,000 students across Andhra Pradesh will be hired under this program and will gain valuable knowledge about government policies and bureaucracy. The deadline to apply to the program is 25th February 2019.