There are fans, there are admirers and there are devotees who follow and do anything for their idol, and Shib Shankar Patra falls in the 3rd category. The diehard football fan had done a strange thing recently. With his earnings from his tea stall, Patra wanted to watch the football world cup in Russia.
However he was informed by a travel agent that his 60000 rupees savings weren't sufficient enough to enable him watch the match in Russia. So he used the same money for a different purpose. He has painted his 3 storied building in Argentina color. As said by himself, he doesn't drink or smoke but is addicted to Argentina and Messi.

His tea stall is famous and one can easily find it by asking people as Argentina tea stall. Every 4 years, he paints his house in Argentina Colors and also has every room with a painting of Messi. Even his family members are fans of Messi, and they celebrate Messi's birthday every year.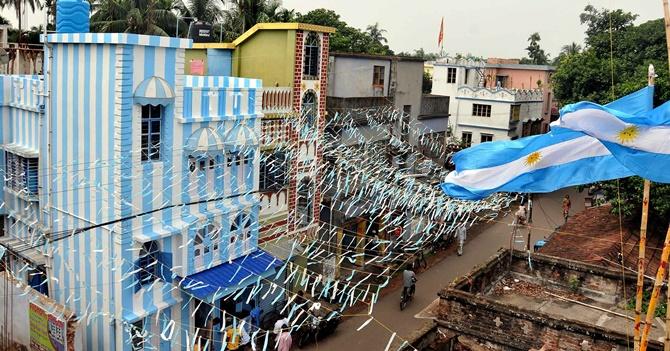 PM Modi felicitated winning teams of Singapore-India Hackathon

Singapore sources reported that Prime Minister Narendra Modi today felicitated the six winning teams, including three from India, of the first India-Singapore Hackathon, a platform for the youth of the two countries to harness and showcase their innovations. Accordingly the top six teams, three each from India and Singapore, participated in a 36 hour Hackathon Grande Finale in Singapore.