In a first of its kind step, WhatsApp had published advertisements on Indian newspapers on July 6, in an attempt to avoid spreading of fake news, which in recent times has even lead to bad consequences like killings and mob lynching. India is the biggest market for WhatsApp, with more than 200 million users, and posts the spread of several fake and misleading messages via WhatsApp, the messaging platform owned by Facebook; there were deaths in the country, Hence the company decided to immediately get into the act before the reputation of the firm gets damaged, with such a media post.
The ad read, Together we can fight false information" and the series of posts will soon be there on regional language newspapers as well. The ad insists users to check any information before spreading it by forwarding, and as said by WhatsApp, the company has started an education campaign in India, to detect fake news and rumors.
After beginning with ads in English and Hindi papers, ads will be posted in dailies circulated in states like Maharashtra, Gujarat and Uttar Pradesh soon. WhatsApp is also modifying its app to make sure user is able to detect fake messages or news, by a feature that shows if it's just a forward message or a created one.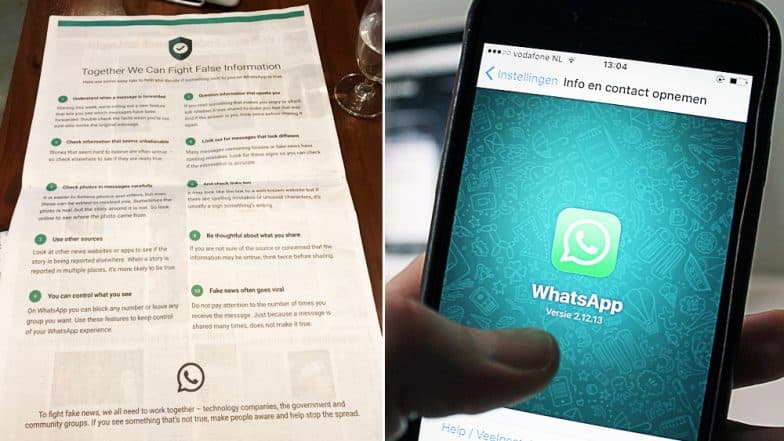 Government of Andhra Pradesh signs MoU with Internshala, launches 'Youth for Andhra Program'

Real Time Governance Society (RTGS) of Government of Andhra Pradesh has signed an MoU with Internshala to launch the 'Youth for Andhra Program' program. The program focuses on empowering the youth of Andhra Pradesh and shaping them into change makers at the grassroot level. 10,000 students across Andhra Pradesh will be hired under this program and will gain valuable knowledge about government policies and bureaucracy. The deadline to apply to the program is 25th February 2019.