Washington sources reported that the red, white and blue banners for US President Donald Trump's second campaign is emblazoned with the words "Keep America Great!" But they are made in eastern China and soon could be hit by punitive tariffs of Trump's own making as he ratchets up a rancorous trade dispute with Beijing.
Meanwhile at the Jiahao Flag Co Ltd in Anhui province, women operate sewing machines to hem the edges of "Trump 2020" flags the size of beach towels, while others fold and bundle them for delivery. Reports added the factory has turned out about 90,000 banners since March, said manager Yao Yuanyuan, an unusually large number for what is normally the low season, and Yao believed the China-US trade war was the reason.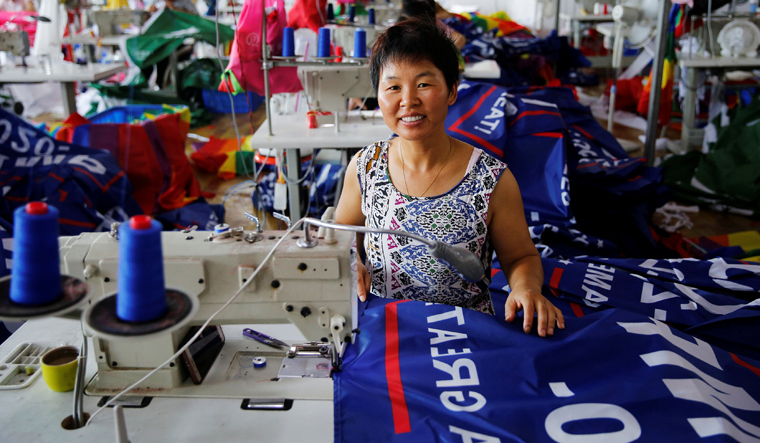 Furthermore the Trump administration has imposed tariffs on $34 billion worth of goods from China. Moreover after Beijing retaliated in kind, Washington announced levies on an additional $200 billion worth of products and threatened more, targeting potentially all of China's exports to America including flags. Moreover she says the buyers are located in both China and abroad and she doesn't know if they are affiliated with Trump's official campaign or the Republican Party with tag line as a candidate was "Make America Great Again", highlighting an irony of his hard line on trade with China.


ISRO successfully launched GSLV-Mk III on Wednesday

Indian Space Research Organization (ISRO) stated that the countdown had begun for the Wednesday evening launch of India's heaviest rocket GSLV-Mk III, carrying communication satellite GSAT-29 at the rocket port in Sriharikota. According to the Indian space agency standing at 43.4 metre tall and weighing 640 ton, the Geosynchronous Satellite Launch Vehicle (GSLV-Mk III) had taken off at 5.08 pm on Wednesday.