Actor Vishal has started a new organization named Makkal Nala Iyakkam yesterday. Actor Vishal, who has been a most sought after action hero in Tamil cinema, of late has been showing interest in politics. Months before, in the RK Nagar by election, Vishal had filed nominations as an independent candidate. As Vishal had all of a sudden got into serious political arena, the election battlefield witnessed heat, but however, his nomination was rejected.
Following lack of trust in the 10 people who had supported Vishal, an investigation was conducted following which Deepan and Sumathi said they hadn't supported him. After huge confusion, his nomination was rejected. After this, Vishal had started concentrating on films, and scored back to back hits with Thupparivalan and Irumbuthirai. Yesterday, the actor had celebrated his birthday, and also celebrated the 100 days celebration event of Irumbuthirai at Kalaivanar Arangam in Chennai, and he had converted his fan clubs into an organization named Makkal Nala Iyakkam, following the footsteps of Kamal Hassan who had launched Makkal Needhi Maiam.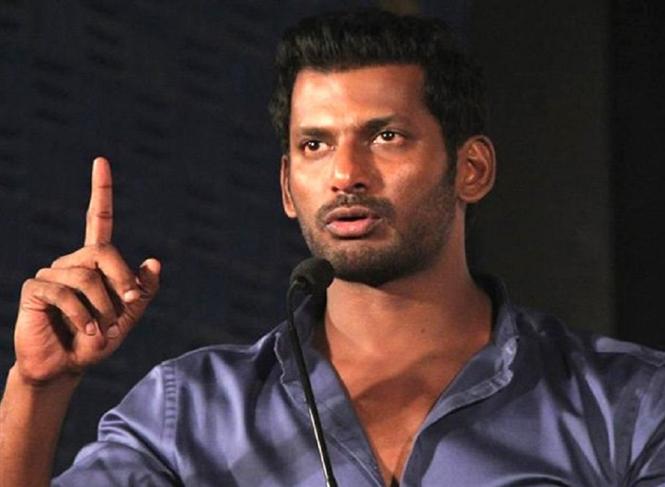 It has been expected that Vishal is planning to launch it as a political party sooner, and he had launched a flag as well. His party flag has the terms, Prudence, Difference and hard work, and the caption let's form a team and sow kindness, with the images of Abdul Kalam and Mother Teresa. 


Former VHP leader's sensational remark on Modi!

The former leader of Vishwa Hindu Parishad Praveen Togadia has said that during his 43 year long friendship with Indian Prime Minister Narendra Modi he had never seen him selling tea. RSS leader Bhaiyaji Ghosh had said that at least for 5 years of Modi's rule. The lord ram temple at Ayodhya won't be constructed.