Chennai sources stated that nearly a month after the death of DMK patriarch M Karunanidhi, his elder son and expelled party leader MK Alagiri on Wednesday organized a silent march to his father's memorial at Marina Beach in Chennai to assert power in DMK. Meanwhile when challenging his younger brother and DMK chief MK Stalin, Alagiri who was accompanied by his supporters, claimed that majority of Karunanidhi's followers are with him.
He was seen dressed in black, to condole Karunanidhi's death, the rally began from Triplicane and no public meeting or speeches are planned. Meanwhile after walking for a while, Alagiri hopped on to an open van, waving enthusiastically to cheer his cadres. Accordingly the expelled leader's followers from various districts held banners, which read "karam korpom kazhagam kappom,' (let us join hands and guard the party).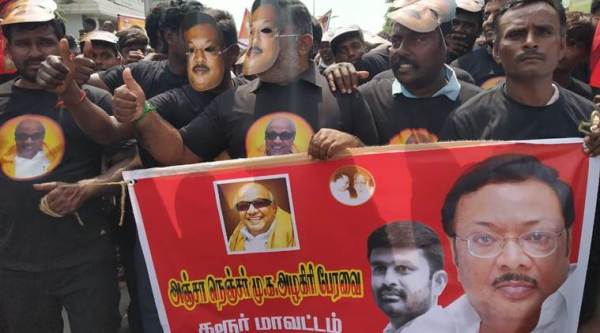 Furthermore Alagiri was expelled from DMK in 2014 for 'anti-party activities' after he openly rebelled against his father for projecting his brother as his successor. Further Alagiri had said that he would not accept anybody but Karunanidhi as his leader. Moreover Alagiri claimed that he would have over one lakh people in his march, which is widely being seen as a show of strength by the rebel leader, where at least 1,000 police personnel have been deployed along the route where Alagiri and his supporters will hold the rally on Wednesday.


TN Govt plans to introduce Board Exams for Class 5 & 8

Accordingly Tamilnadu government is going to introduce board examinations for the students of class 5 and class 8, in addition to the already existing public exams for students in classes 10, 11 and 12. Meanwhile according to a circular issued to all the district education offices, the third term exams conducted in schools will henceforth be conducted as public exams. These exams will have common question papers for all the schools in Tamilnadu.