Palak Paneer is a quintessential North Indian vegetarian dish made with cottage cheese and fresh spinach. Just the sight of white cubes of paneer peeping through the emerald green spinach puree will make your mouth water. Blanched and pureed spinach is cooked with select spices and the paneer is tossed in at the end. This is one of the most popular paneer recipes in India is really nutritious plus quick and simple to prepare. A sprinkling of dried fenugreek or kasuri methi and fresh cream at the end is a must to give that restaurant style vibe to it.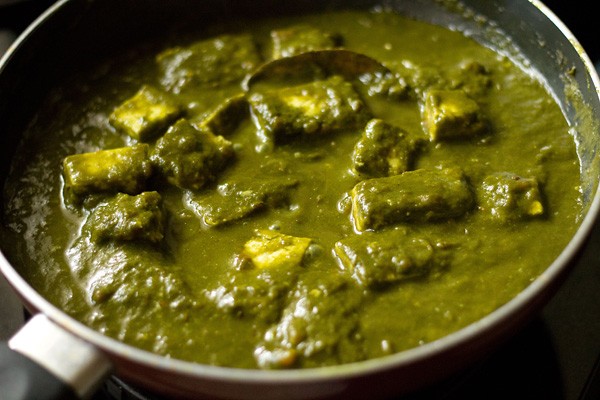 Cook time : 11-15 minutes
Ingredients for Palak Paneer Recipe
Spinach 

900 grams

Paneer (cottage cheese) 

200 grams

Green chillies 

2-3

Garlic chopped 

8-10 cloves

Oil 

3 tablespoons

Cumin seeds 

1/2 teaspoon

Salt 

to taste

Lemon juice 

1 tablespoon

Fresh cream 

4 tablespoons
Method
Step 1
Remove the stems and wash spinach thoroughly in running water. Blanch in salted boiling water for two minutes.
Step 2
Refresh in chilled water. Squeeze out excess water. Grind into a fine paste along with green chillies.
Step 3
Cut the paneer into one inch by one inch by half inch pieces. Heat oil in a pan.
Step 4
Add cumin seeds. When they begin to change colour, add garlic and sauté for half a minute.
Step 5
Add the spinach puree and stir. Check seasoning.
Step 6
Add water if required. When the gravy comes to a boil, add the paneer and mix well. Stir in lemon juice.
Step 7
Finally add fresh cream. Serve hot.
Nutrition Info
Calories : 1350 Kcal
Carbohydrates : 35.4 gm
Protein : 57.2 gm
Fat : 108.8 gm
Other : 0

HANAN ( A Girl Who sold fish to fund her studies )

Hanan a 19-year-Old Kerala girl coming from a family consisting of an Alcohol father and an ailing mother. With no means of Livelihood to run the family, Hanan had to stand on her own legs and do all odd jobs to support her education and family.