The TTD is in the eye of the storm for over some time. The temple where lakhs of devotees visit to worship the Lord every day is losing its charm, thanks to the political parties which see this holy place too as source of power.
The government had forced the retirement of chief priest Ramana Deekshiltulu which led to a major controversy. The priest accuses the government and the TTD of resorting to several religious irregularities, besides corruption. He alleged that some of the gold ornaments gifted to the Lord over the years, have gone missing, while there were some excavations in the temple kitchen – Potu – to find some hidden treasure.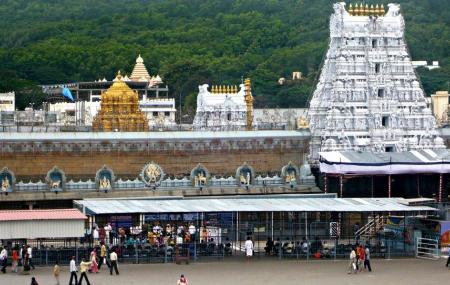 Jana Sena chief Pawan Kalyan too had joined the controversy by supporting Ramana Deekshitulu's allegation that some jewels have gone missing from the TTD. While the government and the TTD trust board deny the allegation, the common devotees have doubts over the issue.
There seems no end to this controversy with the two sides dragging the issue. One wonders what made the government to force the retirement of the chief priest and whether it had the powers to do so, when the priest is not governed by the service rules of the government. The priest has the support of its former executive officer and retired Chief Secretary I Y R Krishna Rao, who also finds some irregularities at the temple in the recent times.
In the thick of the controversies, the TTD had decided to display the jewels of the temple on June 28. The display would be exclusively for the media to record it. The TTD wants to display the jewels along with the record it had been maintaining for several years. The announcement from the TTD about the display of jewels had come as some relief to the devotees. The media would have an opportunity to verify the list and the jewels on display to clear the doubts.
It is not good for the politicians to intervene in the religious places and functions. Faith is something different and has nothing for the political parties to get involved unless it has some hidden interests. One wonders why the holy place is dragged into controversies hitting at the sentiments of the people.

Madurai express to land in Thiruvarur!

It her almost been confirmed that former DMK chief Kalaignar M Karunanidhi's son MK Alagiri will most probably contest in the by elections at Thiruvarur. Few days back when MK Alagiri had interacted with the press, he said that DMK will get only the fourth place in the upcoming Thiruparankundram by elections, besides also making a prediction that DMK can never win in the Thiruvarur by election.