Atal Bihari Vajpayee is a romantic at heart, Vajpayee wrote poetry in his spare time, and was a connoisseur of good food. He was born on December 25, 1924 in Gwalior, Madhya Pradesh to a schoolteacher, Krishna Bihari Vajpayee, and Krishna Devi and today, his birthday is celebrated as 'Good Governance Day'. Meanwhile after schooling, he graduated from Victoria College in Gwalior, now known as Laxmi Bai College.
Furthermore he did his M.A. in political science from DAV College in Kanpur. Following a brief flirtation with communism, he became a full time worker of RSS in 1947. Moreover Vajpayee subsequently entered journalism and was editor of Rashtradharma, a Hindi monthly, the Panchjanya Hindi weekly and the dailies, Swadesh and Veer Arjun.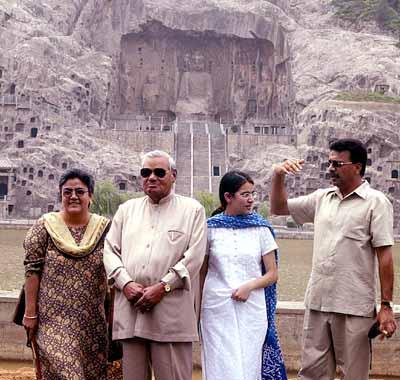 Further he became a close follower of Syama Prasad Mookerjee, the founder of the Bharatiya Jana Sangh, the precursor to Jana Sangh and later the BJP and further under Mookerjee's tutelage, Vajpayee's right-wing philosophy shaped. Moreover Vajpayee accompanied Mookerjee to Kashmir in early 1950s during the BJS leader's fast unto death to protest the identity card requirement for Indian citizens visiting the state. Accordingly Vajpayee is survived by his adopted daughter, Namita Kaul Bhattacharya. 


Anna University Exams postponed to December 13, 14 due to Cyclone Gaja

Recently Anna University has announced that theory examinations scheduled for Friday will now be conducted on December 13. As per report the University has also postponed examinations scheduled for November 17 to December 14 and the examinations have been rescheduled on account of Cyclone Gaja, which hit the coastal areas in Tamilnadu on Friday.